1.1 Scope
This specification covers the design considerations within oil and gas production facility limits, installation and arrangement requirements of piping systems including but not limited to pipelines, production facilities, pump stations, satellites, batteries and plants.
This specification is intended for new piping systems and piping system modifications. Some of the requirements may not be appropriate when reviewing an existing piping system, however, this specification should be used as a preliminary tool to identify possible concerns in existing piping systems.
"Owner" shall represent the producing company or it's designated representative. "Contractor" shall represent the person, firm or corporation performing work, providing a service, materials or equipment to the Owner.
The Alberta Energy Regulator (the "AER" or the "Board") is responsible for approving the installation of plant facilities, field facilities and pipeline facilities in Alberta. The Oil & Gas Commission (OGC) is responsible for the same in British Columbia. In Saskatchewan the authority is the Ministry of Energy and Resources.
All piping material and installation shall be in accordance with this specification. Pressure piping supplements for sour hydrocarbons and for low temperature sweet/sour hydrocarbon service will form part of this specification when attached.
Oil and/or Gas treating plants (or "plants") are major facilities generally consisting of combinations of functional units located on one site. Typically these processing units include inlet separation, inlet compression, gas and liquid sweetening, dew point control, LPG recovery, fractionation, sulfur production, acid gas injection and sales gas compression. Small units mounted on individual skids such as gas/liquid separation skids, glycol dehydrators, etc. and located on sites where little or no other equipment exists, are termed "field facilities".
The vessels associated with both plants and field facilities must be designed to the ASME Codes and, from a design and construction point of view, are administered by Alberta Boilers Safety Association (ABSA) in the Province of Alberta. Boilers, pressure vessels and pressure piping designs in part, or in total, must be approved and registered by ABSA. In other provinces, similar government groups administer the design and construction of boilers and pressure piping systems.
In Western Canada, the Pipeline Act and Regulations of each Province govern the design and construction of all other off-lease oil and gas production equipment while the Safety Codes Act governs over on-lease piping components.
In accordance with these acts, specific design codes are required for the various locations; with some overlap allowed. Under the umbrella of the Oil & Gas Act, for example, either CSA Z662 or B31.3 may be applied to the piping design requirements.
Some of the more significant differences in the design of pressure piping systems designed to CSA Z662 when compared to B31.3 are as follows:
The method of calculating the minimum wall thickness is different.
In CSA, corrosion allowance is not required if other method(s) of corrosion mitigation are implemented.
Manufacturing specifications for pipe, valves and fittings are somewhat different.
Radiography and stress relieving requirements differ slightly.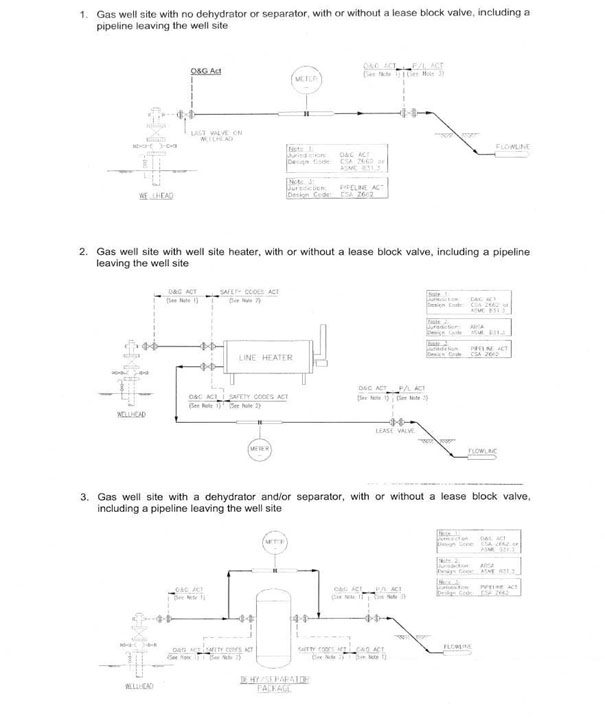 Jurisdictions of the Oil & Gas Act, Safety Codes Act, and Pipeline Act for typical Installations are as follows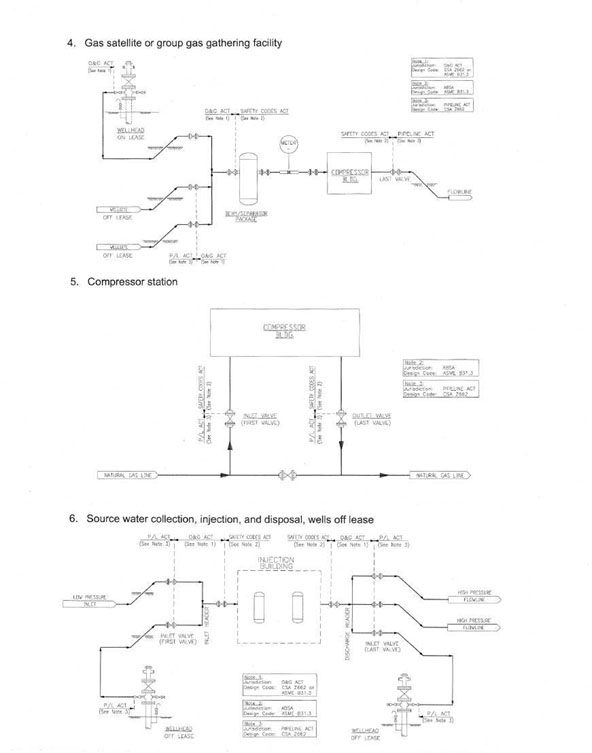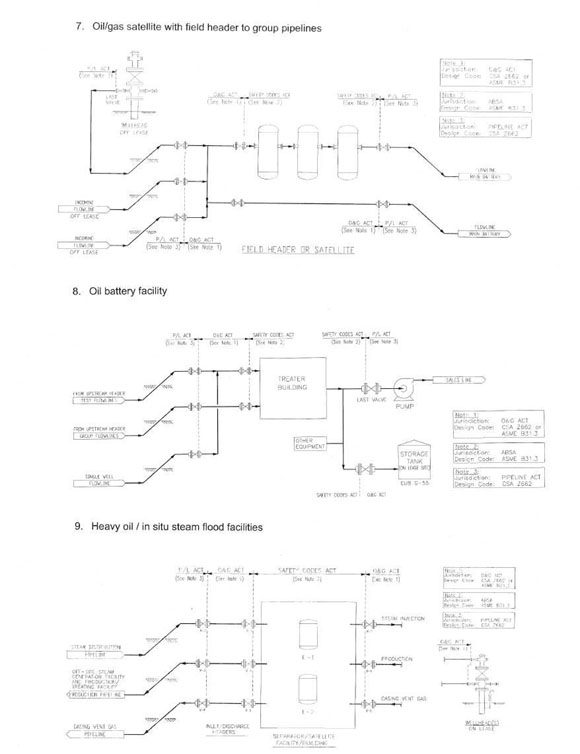 Note: the AER has made it clear that launchers/receivers are to be constructed in accordance with CSA Z662, up to and including the first above grade isolation valve(s).